4.5 stars for beautiful writing, originality, and diversity.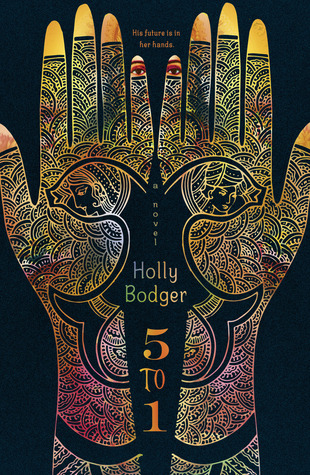 I am really big on diversity in the YA genre, especially when it comes to stories that are not contemporary. So I'll go ahead and make this clear–I loved this book. Not because it was perfect, but because it did something original and it did it well.
5 to 1 tells a story of two people, Sudasa and Kiran, who come from opposite ends of the social spectrum. Sudasa lives a life of luxury because she was born a girl and Kiran lives a life of poverty because he was born a boy. Bodger takes the present day issues of infanticide and foeticide in India and creates a society in which women are no longer unwanted, but revered, and men are treated as less than. She essentially reverses the gender inequality found within India today, creating a dystopian society ruled by a matriarchy instead of a patriarchy. I really liked the idea of women taking matters into their own hands and creating a new society out of frustration for the old.
Because of the shortness of the book, the world building is kept to a minimum. I couldn't help but wish the book was one hundred pages longer so that I could become more immersed in the world. However, the lack of world building didn't take away from much, as the characters do more than make up for it.
I was invested in the immediate struggles of Sudasa and Kiran, as they went against the grain of their little world. Their backgrounds were sprinkled throughout their narration, slowly revealing their complex personalities and willingness to go against their society, to forge their own paths for their lives. Both characters were strong in their own right. I especially appreciated how Sudasa stood up for herself time and time again, despite the pressure to conform and obey. Oh, and there is, thankfully, no romance in this book. There was definitely potential between Sudasa and Kiran, but Bodger wisely left romance out of the picture. Given the subject matter, it was only natural for the characters to focus on literally anything else before romance.
Another thing I appreciated about this book was that Bodger got the Hindi right. That's a big plus.
I highly recommend everyone read 5 to 1, especially if you're looking for something original and diverse within ya. Bodger takes a very serious social and cultural issue found within India and creates a respectful, beautiful story as a result, while not watering down the seriousness of the subject matter. So many dystopian novels leave me confused and uninvested, making me wonder how exactly the society became the way it is. Though the reader doesn't found out the exact mechanics for the establishment of Koyanganar, we know why it came to be. And that's equally, if not more, important.
Crossing my fingers for a sequel!
Thank you to Netgalley and the publisher for sending me an eARC in exchange for an honest review.